Finding a trusted AC repair service in Denham Springs, LA, is essential when you encounter issues with your air conditioner. Timely and effective repairs are crucial to ensure your comfort and peace of mind.
By addressing AC problems promptly, you can prevent further damage and potential costly repairs down the line. To help you recognize when your AC system requires attention, it's important to be aware of common signs of AC issues.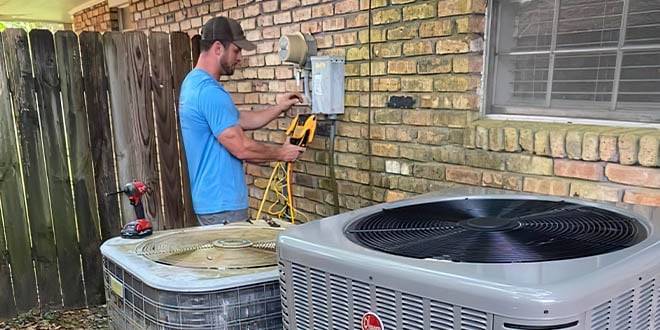 Identifying indicators such as insufficient cooling, unusual sounds, poor airflow, frequent cycling, and strange odors can guide you in knowing when to seek professional assistance. Choosing a reputable AC repair service provider in Denham Springs, LA, is vital to ensure experienced technicians can diagnose and resolve the problems efficiently.
Entrusting your AC repairs to reliable professionals will give you the confidence that your system will be restored to optimal functioning.
Why Choose Wilkins for Emergency AC Repair in Denham Springs
Wilkins Services is the premier choice for reliable and efficient AC repair services in Denham Springs, LA. Discover why countless customers turn to us for all their AC repair needs:
Unparalleled Expertise and Experience
Our team of highly skilled technicians possesses extensive experience in the HVAC industry. With years of hands-on experience, we have developed a deep understanding of AC systems, enabling us to diagnose and efficiently repair a wide range of AC issues.
From intricate electrical problems to refrigerant leaks, our technicians possess the technical know-how to restore your AC system to optimal functioning.
Prompt and Reliable Service
We recognize the urgency of AC repairs, particularly in the scorching heat of Louisiana. At Wilkins Services, we are committed to providing prompt and reliable service, ensuring that your AC system is repaired quickly and effectively.
We prioritize your comfort and satisfaction, diligently resolving your AC issues without unnecessary delays.
Exceptional Customer Service
Your satisfaction is of utmost importance to us. At Wilkins Services, we believe in delivering exceptional customer service at every step of the process. Our dedicated team listens attentively to your concerns, providing transparent explanations of the necessary repairs.
We also offer competitive pricing options that align with your budget, ensuring a seamless and transparent experience for you.
Comprehensive AC Repairs
When it comes to AC repairs, we handle all aspects with precision and care. Whether we're addressing refrigerant leaks, diagnosing and resolving electrical issues, repairing faulty compressors, or replacing worn-out components, our approach is meticulous.
We focus on tackling the root cause of the problem, providing comprehensive repairs that offer lasting solutions rather than temporary fixes.
Long-Term Solutions
Our commitment to you extends beyond mere temporary fixes. At Wilkins Services, we strive to deliver long-term solutions that restore your AC system to optimal performance. By prioritizing quality workmanship and utilizing top-notch materials, we ensure that your AC system operates reliably and efficiently for years to come.
Our goal is to provide you with peace of mind and ongoing comfort.
When you choose Wilkins Services as your AC repair provider in Denham Springs, LA, you can expect an unparalleled level of expertise, prompt service, exceptional customer care, and comprehensive repairs. Experience the difference our dedication and professionalism can make in ensuring the comfort of your home or business.
When To Call Our Denham Springs AC Repair Experts
Recognizing the signs of AC problems is crucial in determining when to seek professional AC repair services. If you notice any of these common indicators, it probably means that your AC system requires attention.
Here are the signs to watch out for:
Insufficient Cooling: If your AC struggles to effectively cool your space, or if you experience temperature inconsistencies, there are likely underlying issues that need to be addressed promptly. Inadequate cooling can be a clear sign that your AC system is not functioning optimally.
Unusual Sounds: Pay attention to any unusual sounds coming from your AC unit, such as grinding, rattling, or screeching. These noises can indicate potential mechanical problems that require professional attention. Ignoring them could result in further damage and costly repairs down the line.
Poor Airflow: If you notice weak or limited airflow from your vents, it could be a sign of clogged filters, duct leaks, or malfunctioning components. Proper airflow is crucial for efficient cooling. Seeking professional assistance is necessary to identify and resolve these issues effectively.
Frequent Cycling: Does your AC turn on and off frequently without reaching the desired temperature? This frequent cycling could be a red flag indicating a problem with the thermostat, refrigerant levels, or other components. Timely repairs are essential to restore proper functionality and prevent further damage.
Strange Odors: Be mindful of any strange odors emanating from your AC system, such as foul or musty smells. These odors could indicate the presence of mold or other contaminants, negatively impacting indoor air quality. Addressing these issues promptly is crucial for maintaining a healthy living environment.
If you notice any of these signs in your AC system, don't hesitate to contact Wilkins Services for professional AC repair in Denham Springs, LA. Our experienced technicians will diagnose the problem and provide practical solutions to ensure your AC system operates at its best. Trust us to address these issues with expertise and care, restoring comfort to your space.
Beat the Heat With Air Conditioning Repair in Denham Springs
Regarding reliable and professional AC repair in Denham Springs, LA, there's only one name you can trust: Wilkins Services. Our expert team is prepared to diagnose and resolve any AC issues, guaranteeing your comfort and utmost satisfaction.
Take control of your comfort and reclaim your daily life by addressing a malfunctioning AC system today! 
Experience the unrivaled AC repair services that we, at Wilkins Services, provide. Our skilled technicians have the knowledge, expertise, and state-of-the-art tools to tackle any AC problem you may encounter swiftly.
 We prioritize your comfort and well-being, ensuring that your AC system operates flawlessly, delivering optimal cooling performance to keep you comfortable, even during the hottest Louisiana days.
Choose Wilkins Services and discover the difference our exceptional craftsmanship and unwavering commitment to customer satisfaction can make. Call us now to schedule an appointment!