Facing chilly winters in Denham Springs, LA? Heater maintenance is essential to keep your home cozy and warm. With unpredictable weather patterns, ensuring your heating system's efficiency is more than just routine care; it's a step towards comfort and peace of mind.
The Best Heater Maintenance, Denham Springs, LA
At Wilkins Services, we've dedicated ourselves to becoming the best in the HVAC industry, and our wide range of air conditioning and heating services reflects that commitment. While we take pride in our achievements, we believe that our work speaks for itself.
Comprehensive Inspection
At Wilkins Services, the foundation of excellent HVAC services lies in a thorough inspection of the entire heating or cooling system. We meticulously check every part, including the thermostat, filters, electrical connections, motors, and more. Our detailed examination ensures that every component works efficiently and safely, providing you with peace of mind and excellent indoor air quality.
Cleaning and Tuning
Our top-notch service goes beyond the mere inspection of HVAC systems. We take the time to clean all components, from air filters to burners, enhancing airflow and efficiency. Our tuning process involves adjusting the HVAC system to optimal settings, ensuring it operates at peak performance. This attention to detail sets us apart from other HVAC companies and ensures your system's longevity.
Expert Technicians
Our team consists of highly skilled and certified technicians. Their expertise and continuous training in the latest technology and industry best practices ensure that every aspect of your air conditioning unit or heating system is handled with precision and care. We're not just HVAC technicians; we're craftsmen who take pride in our work.
Quality HVAC Unit Parts
We understand that the quality of parts used in maintenance and repair is crucial. That's why we use only high-quality, genuine parts that match your system's specifications. This commitment to quality ensures the longevity and integrity of your heating system.
Preventive Measures
Our approach to air conditioner and heater maintenance includes identifying and addressing potential issues before they escalate into major problems. This preventive maintenance not only saves you time, stress, and money but also enhances the lifespan of your system.
Customized Solutions
We recognize that every AC unit or heating system is unique, and we tailor our services to meet your specific needs and preferences. Our customized solutions ensure that our service is not just adequate but exceptional, reflecting our understanding of your unique requirements.
Transparent Pricing
With Wilkins Services, you'll never encounter hidden fees or surprises. Our transparent pricing includes a detailed breakdown of costs, ensuring that you know exactly what you're paying for. We believe in honesty and integrity in all our dealings.
24/7 Support
We know that emergencies can happen anytime, and we're here for you around the clock. Our 24/7 support ensures that help is always available when you need it. Your comfort is our priority, and we're always just a call away.
Satisfaction Guarantee
Your satisfaction is our ultimate goal, and we stand behind our work with a 100% satisfaction guarantee. This reflects our confidence in the quality of service we deliver and our commitment to ensuring you're happy with our work.
At Wilkins Services, we provide more than heating and air conditioning repair, installation, and maintenance; we ensure quality, reliability, and excellence. Our expertise makes us the top choice for heater maintenance in Denham Springs, LA. Trust us for professional and dedicated service.
Why Choose Wilkins Services for Heater Maintenance?
Finding the right heater maintenance provider is essential for the comfort and safety of your home or office. Here's why Wilkins Services should be your go-to air conditioning company for all your heating or cooling needs in Denham Springs, LA:
Skilled Technicians

: Our team consists of certified professionals who are experts in handling various heating systems. Their continuous training ensures that they are up-to-date with the latest industry standards and technologies.

Commitment to Quality

: We take pride in our work, and our reputation for quality is something we've earned through consistent excellence. Whether it's air conditioners or heaters' repair, installation, or maintenance, we approach every task with precision and care.

Customer-Centric Approach

: At Wilkins Services, we value our clients and strive to build lasting relationships. Our customer service is attentive and personalized, ensuring your experience with us is smooth and satisfying.

Budget-Friendly Financing Options

: We recognize the importance of affordability without compromising quality. Our financing plans are designed to fit your budget, allowing you to access our top-notch services without financial strain.

Understanding of Local Climate

: As a locally-owned business, we understand the specific heating needs of the Denham Springs community. Our services are tailored to address the unique weather conditions of our region, ensuring optimal comfort.

Satisfaction Guarantee

: Your satisfaction is our priority. We stand behind our work with a guarantee that reflects our confidence in the services we provide.
For residential heating and air conditioning maintenance that combines expertise, quality, and customer focus, choose Wilkins Services. Our unwavering commitment to excellence sets us apart, making us the preferred HVAC contractor in Denham Springs, LA. Contact us today to schedule your appointment.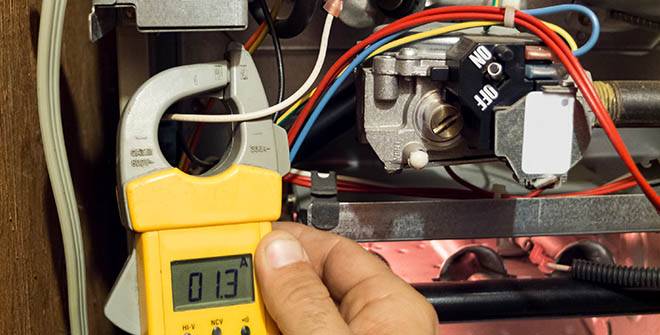 Heater Maintenance Top FAQs
Why is heater maintenance important?
Heater maintenance is vital for optimal performance and safety. Regular maintenance ensures that all components of the heating system are working efficiently. It helps in the early detection of potential problems, preventing costly AC repair services and extending the lifespan of the system. Proper maintenance also ensures that HVAC units operate safely, reducing the risk of accidents.
Is electric heating 100% energy-efficient?
Yes, electric heating can be 100% energy-efficient at the point of use. Unlike other heating methods, electric heaters can convert all the electricity they consume into heat. However, it's worth noting that the overall efficiency may vary depending on factors such as the source of electricity and the efficiency of the electrical grid. Choosing a high-quality electric heater and using it responsibly can help maintain this level of efficiency.
Do heaters use a lot of energy?
Yes, heaters can use a significant amount of energy, especially if they are not maintained or used inefficiently. The energy consumption of a heater depends on factors like its size, type, efficiency rating, and how long it's running. Proper maintenance and using energy-saving settings can reduce energy consumption.
Do heaters lose efficiency over time?
Yes, heaters can lose efficiency over time due to wear and tear. Components may become less effective, and the system may have to work harder to produce the same heat, consuming more energy. Regular maintenance can mitigate this loss of efficiency by keeping the system clean and well-tuned and by replacing worn-out parts as needed.
Schedule Your Appointment Today
Ready for a warm and cozy winter? Trust Wilkins Services with your heater maintenance needs in Denham Springs, LA. Our expert technicians, quality service, and customer-centric approach ensure your comfort and satisfaction.
Make the wise choice for your home or office heating system. Call us today to schedule an appointment, and let us take care of the rest. Your comfort is our commitment.